Link building is hard.
In fact, most SEOs say it's their least favorite part of their job.
Most website owners struggle to build links that move rankings for their website. Others resort to buying backlinks out of frustration rather than earning them.
If this sounds like you, you've come to the right place.
In this article, we give a step-by-step tutorial of the 10 most common link building strategies that we use for our clients as a part of our link building agency without paying for links.
Let's dive in.
1. Guest blogging
Guest blogging is one of the most common link building strategies used by search engine optimization (SEO) professionals because it brings predictable results.
Basically, you write an article for another website in your niche.
In your article, you put a link to your website using a keyword you want to rank for as the anchor text.
When the website publishes the article, you have a backlink.
Because you can control the link placement with guest blogging, you can use it to build relevant links to any page on your website (like important landing pages) rather than just content pages.
Here's how to do it.
Step 1. Find websites to pitch
To find websites that accept guest content, we can use Google's search operators.
Since Google lets us use quotation marks to force it to find exact quotes on a page, we can leverage that to use the following search strings along with a keyword that represents our target to find opportunities:
"write for us"
"guest blog"
"guest post"
"submit an article"
"submit a guest post"
"contribute guest post"
"contribute to our blog"
"become a guest blogger"
"guest blogging guidelines"
"contributor guidelines"
"send a tip"
"guest post by"
"guest author"
"editorial guide"
So, if I want to find sites that write about marketing stuff and take guest posts, I'd do this…
However, we don't want to limit ourselves to this technique because everyone else is doing it to find prospects.
So to double down, we can use the competing domains feature in Ahrefs to find more prospects.
Just put the prospects you find with the above technique into the Ahrefs search box and choose "competing domains" on the left.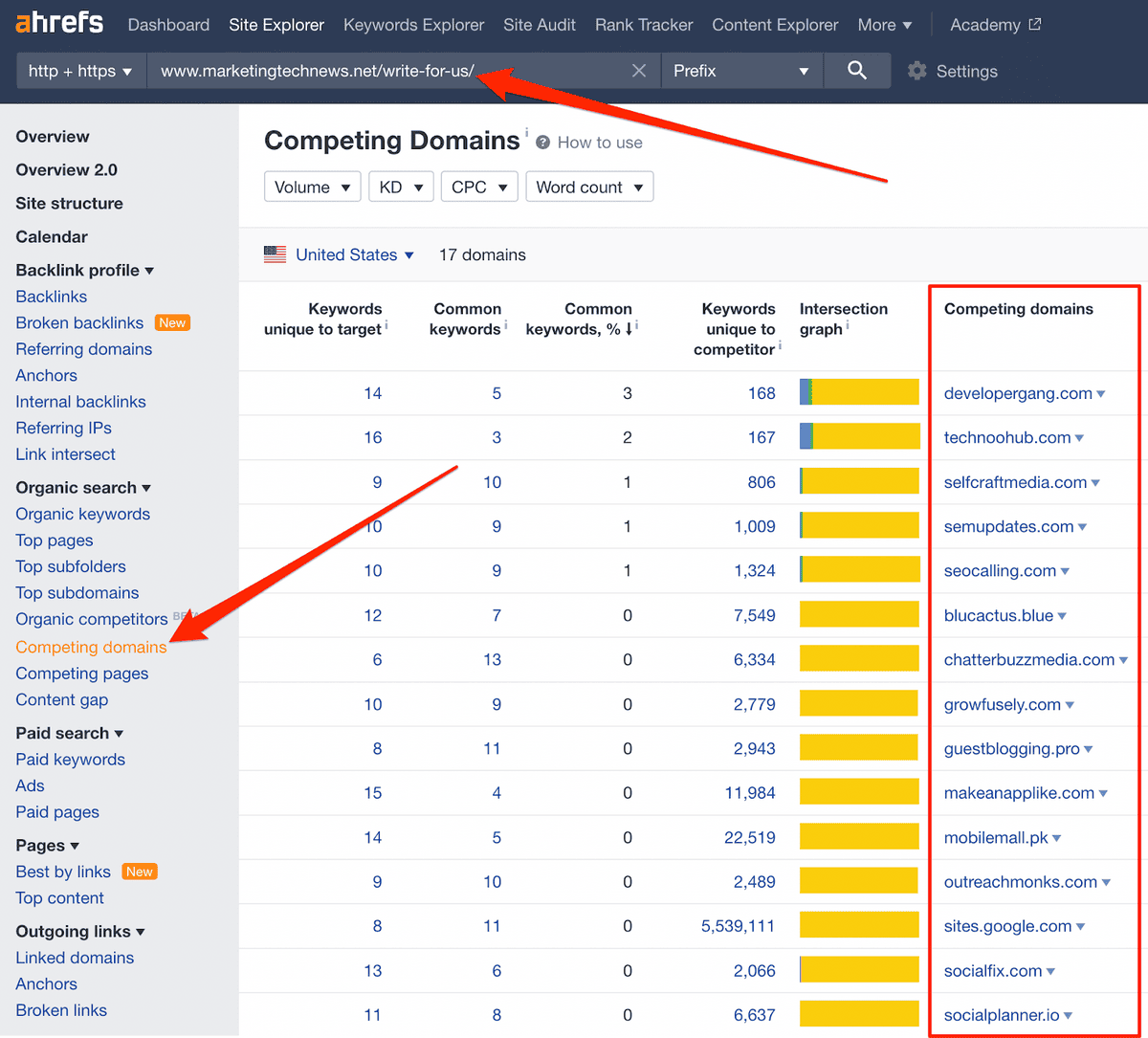 Go through the websites and pick ones that you feel you can offer real value to. These make the best outreach targets because they value your expertise as it adds authority to what you write, and they will be more likely to accept a pitch from you.
Step 2. Find content ideas to pitch
This part can be time consuming with guest posting because you want to find ideas that appeal to the readers of the website you're pitching.
This is accomplished by pitching ideas that meet the following criteria:
The ideas serve the same purpose as the other content on their site (i.e., helps them sell a product, educate their readers, etc.)
The ideas are legitimately helpful to their audience.
The website hasn't written about this topic in the same way before.
We can find ideas for our prospect that fit the criteria above by using the Competing Domains feature in Ahrefs.
Just put in the prospect's URL, choose "Competing domains," and click one of the numbers in the "Keywords unique to competitor" column.
This will show you the keywords that the domain in the "Competing domains" column ranks for but our prospect's site doesn't.
Basically, this will show you keywords that your prospect doesn't rank for, but could.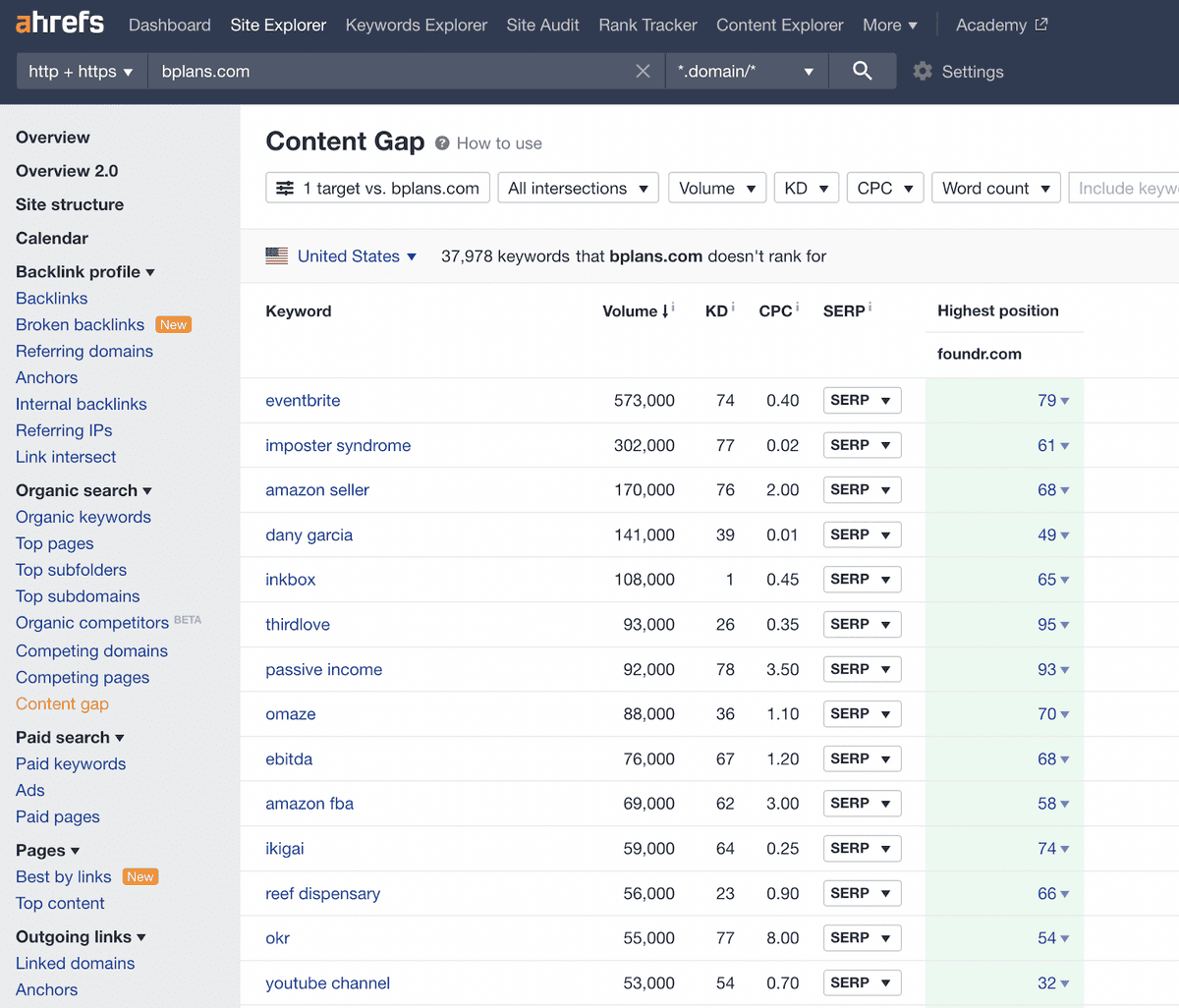 For example, with this, I can pitch BPlans an article about passive income or impostor syndrome.
From here, you can Google the keywords to help you come up with headline ideas, but go for something similar to the site you're pitching.
For example, if they publish lots of "how to" articles, come up with "how to" headlines.
It's best to trust that the website knows their audience best, so pick ideas that align with what they're already publishing.
Step 3. Write your pitch
When you have your ideas ready, it's time to draft your pitch.
When pitching your prospects about a guest post, be sure to include the following:
A personalized intro to capture their attention and let them know you're human.
Three ideas that appeal to them. This works better than a single idea because it gives them options. It's best to be diverse in the ideas, so don't do all "how to's," for example. Try things like lists, thought leadership pieces, case studies, etc.
Writing samples. If you don't have any, make some and publish them on your own website. Samples from other outlets can add social proof to your pitch. So, if possible, use other guest posts as your samples.
Here's a template you can use that contains all of the above:
Article for [Site]
Hey [First Name],
[Custom Intro]
I'm emailing you today because I'm working on some articles that I thought would be a perfect fit for [site].
Here's an overview of what each one is about:
[Article Title] – [description]
[Article Title] – [description]
[Article Title] – [description]
Would you be interested in seeing a draft of any of these to consider publishing on [site]?
To give you an idea of my writing style and quality, here are some samples:
Let me know, thanks!
Cheers,
Nick
Step 4. Write content they want to publish
If you've made contact with a prospect and you write low quality content, you'll lose the placement.
Ensure your content is high-quality. So when you write, keep their audience in mind. Read comments, look for articles that get lots of social shares, and generate ideas on how to format and write your article from these.
Don't hold back. When you write, go all out by doing things like:
Adding quotes from influencers and other people you know.
Link to other content on their site.
Add images, videos, and more to keep the content engaging.
If you do this well, your guest posts can rank in Google and continue to bring traffic for your prospect.
For example, this guest post I wrote about requirements documents has over 100k views!
Aim to accomplish this, and you'll have no problem getting your content published.
Step 5. Promote the article and ask for referrals
What you do after your guest post is published determines the course of your relationship with the webmaster.
If you can develop a strong relationship after getting published, you can win more opportunities through their network.
So take the extra step to help them promote the article. You can do this by:
Sharing it on social media.
Linking to it in future guest posts.
Sending it to your email list.
Run $10 worth of social media ads to it.
If done correctly, the above will drive meaningful traffic to the post.
After that, you can easily ask for referrals. That's how I got this guest post for Toast placed.
Pretty good results for being kind and developing the relationship, if you ask me!
2. Infographic promotion
Infographics make great linkable assets because, unlike with guest posting, you don't have to write massive content pieces for every link.
Instead, you create an infographic once and pitch it out as much as you can. This makes it a great link building technique.
You may have to write some content, but it's often not as in depth as a guest post. Although they do pair well with stats roundups.
Here's how we do infographic promotion.
Step 1. Create a killer infographic
If you want other websites to share your infographic, it needs to be worth it for them.
This means you can't just create an infographic about your brand or business and expect someone to publish it. You need to create a story that proves bloggers and journalists right.
To create link building opportunities with your infographic, you first want to see what kind of point bloggers and journalists in your niche are trying to make.
So first, do a quick Google search for the best blogs in your niche.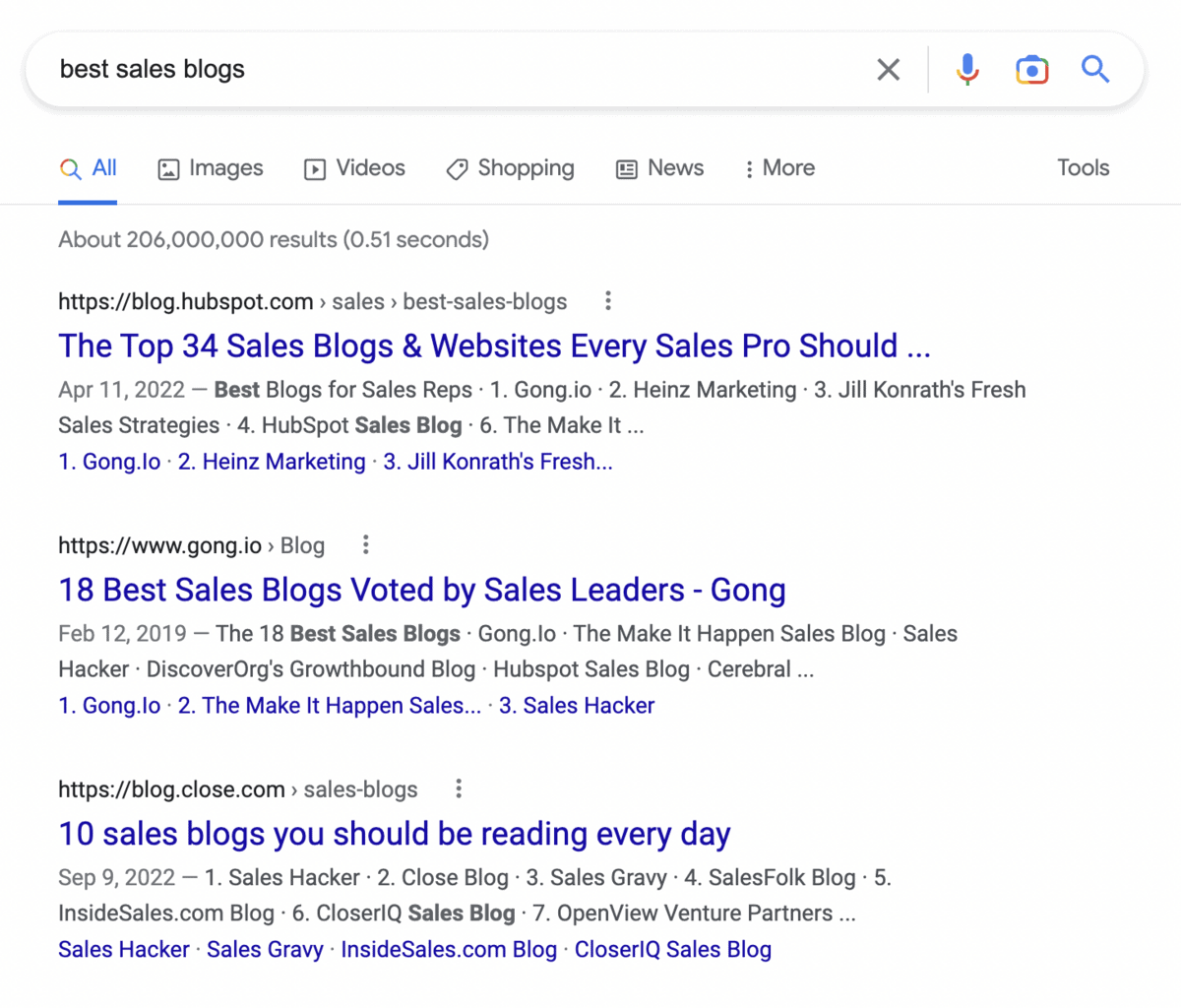 Next, read some of the posts to get an idea of what the journalists and bloggers are trying to say.
For example, when we were working with IRC Sales Solutions in the sales niche, everyone was talking about the follow-up, so this infographic we made about follow-ups did well because it supported the story journalists were trying to tell.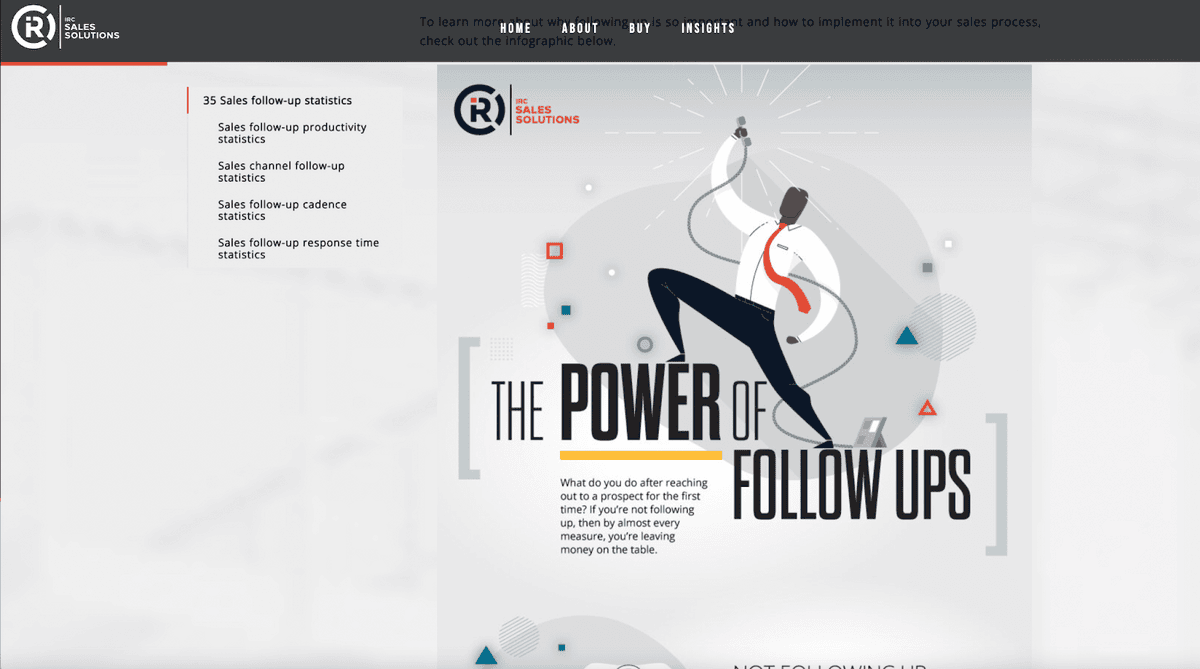 Once you have your topic, you need to create an infographic that supports the existing narrative that bloggers and journalists are writing about.
The first step in accomplishing this is copywriting. When writing your infographic copy, it should flow like this:
Write a bold title: No more than 10 words. Make it a headline that captures the reader but would also be of interest to the journalists and bloggers you plan to pitch.
Prove it: Use 3-5 external statistics and data points in your graphic to prove your headline/intro.
Close with something helpful: We like to close our infographics with some kind of takeaway for the reader. This can be a DIY tip or a basic conclusion that summarizes how the information in the infographic is useful.
Once you have the copy ready, you can hire a designer to build around your copy. Don't skimp here, as an attractive design is the whole point of an infographic. Make it epic.
Step 2. Publish it on your website
Publishing your infographic on your website is important so you have somewhere to send bloggers and journalists who are interested in checking it out.
Keep a few things in mind when publishing it:
Write epic supporting content. Don't just publish the graphic on its own. Write great content to go with it. You can even put your infographic inside of an important post to build relevant links to that specific web page!
Put the infographic early in the content so bloggers and journalists don't have to scroll too far.
Include embed code for those who would rather embed than upload images to their servers. You can generate the code for this with an Embed Code Generator.
Once it's published, you're ready to start your outreach!
Step 3. Pitch the infographic
Once your infographic is designed and published, you can start pitching it to bloggers and journalists.
To find prospects, like with guest posting we can use Google search operators to find people who've written about the topic your infographic is about.
For example, with our link building infographic, we can simply look for sites that have written about link building.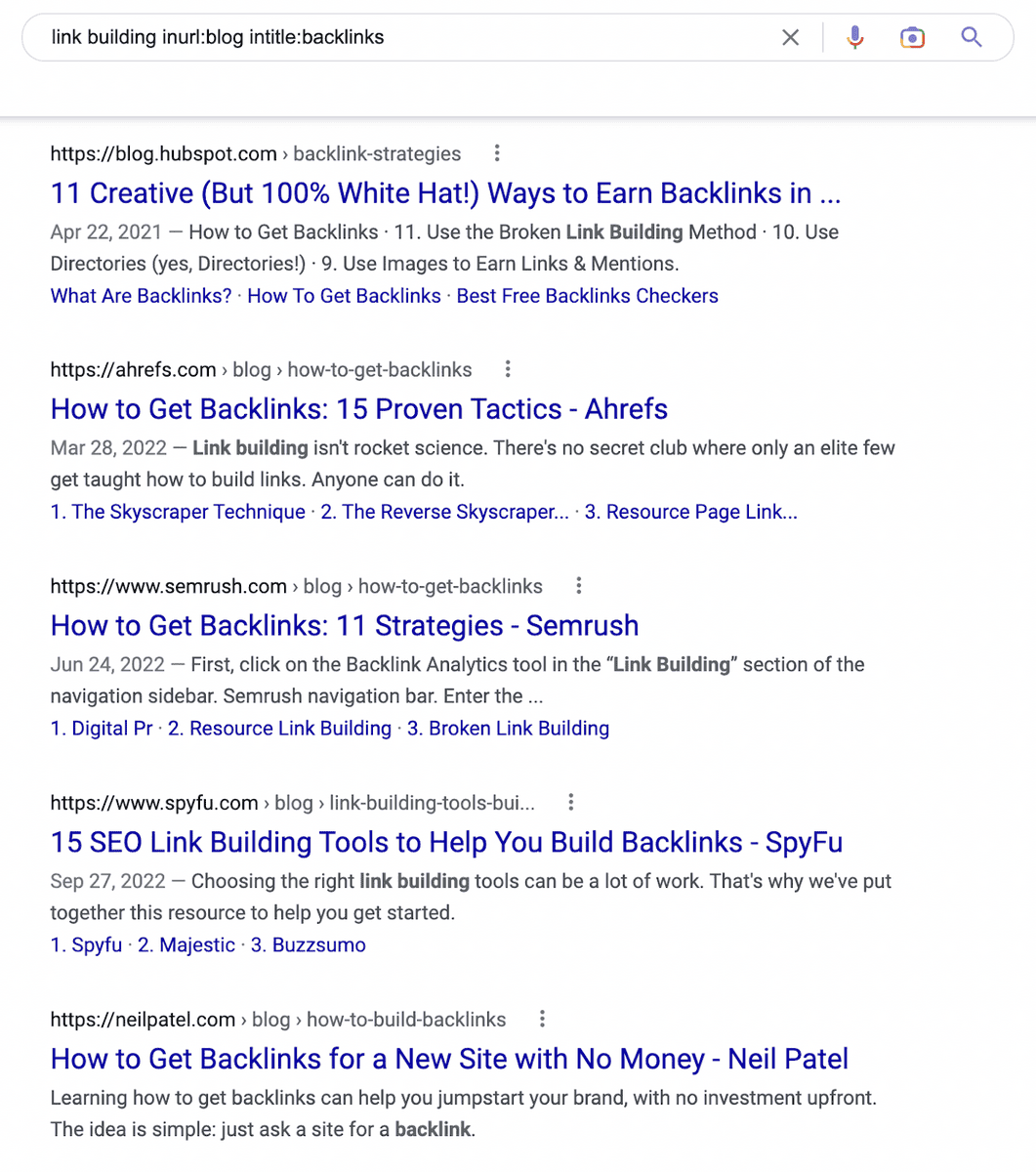 Go through the sites, pick out the ones that look like a fit, find their contact info, and pitch them with a template like this:
Infographic for [Site]
Hey [name],
Nick here – content guy from Ranko Media. Hope you're having an awesome week!
I'm emailing you today because we just finished putting together an infographic about [topic], and since you've written about this kind of thing before, I thought you might be interested in sharing it with [site]'s readers!
Mind if I send it your way for a quick review?
Cheers,
Nick
When they respond, send them the infographic and offer to write a mini guest post to go along with it.
You won't have to write something as detailed as a guest post, just some copy to introduce the infographic (with your link in it).
Once your infographic gets published, you get a backlink!
3. List outreach
Lists are awesome because they have the potential to drive referral traffic.
Think about it – why else would someone read an article about the best music apps or whatever else unless they're looking for something to use or buy?
Even if you have to pay for the placement, it might be worth it if the traffic can send sales.
List outreach is pretty straightforward.
Search Google for "best" and your product type.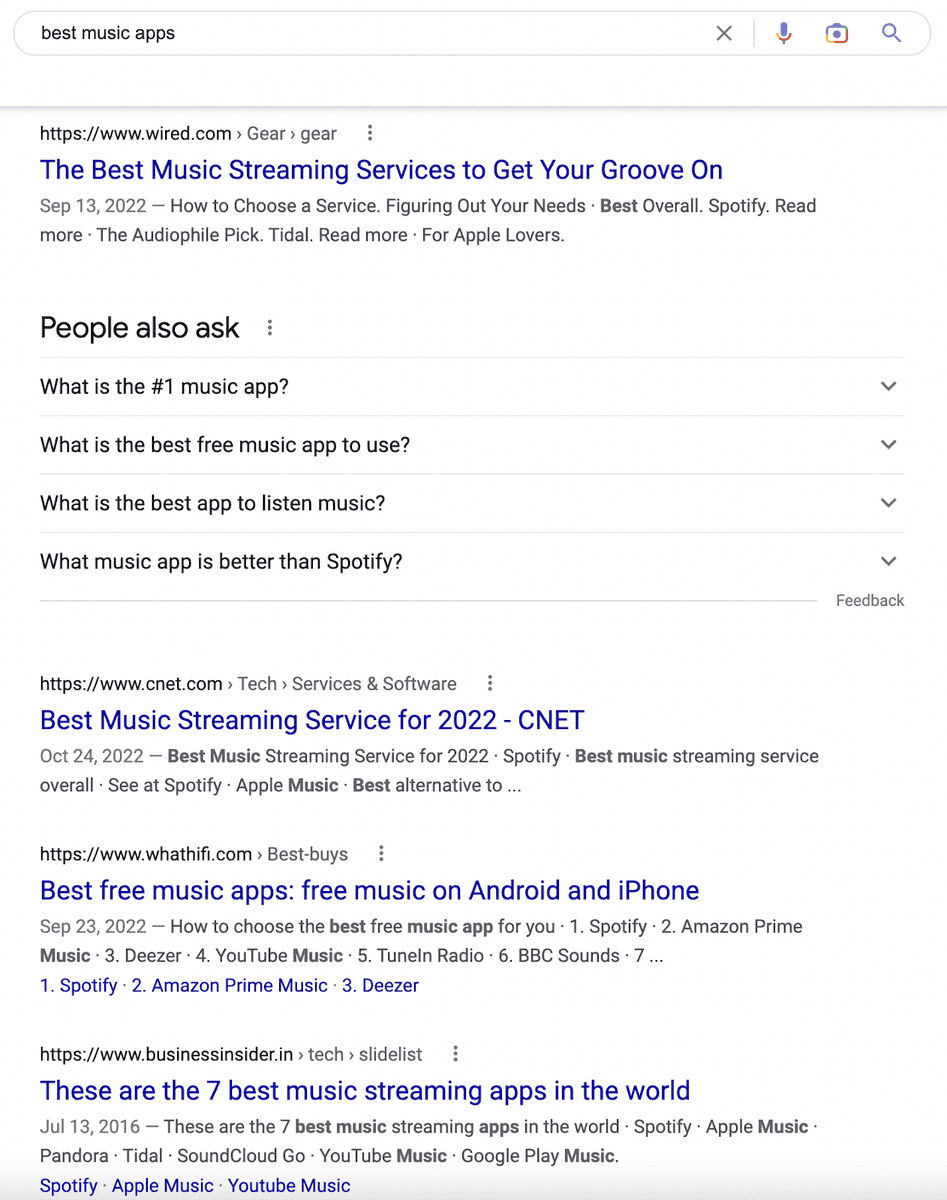 Then send them a pitch like this:
Quick Question
Hey [name],
Just read your article about [topic]. Great stuff!
Since you listed so many helpful resources, I wanted to introduce you to our [type of product], [product name]: [URL]
[Pitch/description that appeals to their readers]
If this sounds like something your readers would be interested in, would you be able to give it a mention on your page?
Cheers,
Nick
The response rate of a campaign like this is typically pretty low, but one good placement can make a great backlink and potentially drive revenue for your business.
4. HARO
If you're looking for a way to get valuable links to your homepage to build some domain authority, HARO is where it's at.
This service sends you 3 emails per day with questions from journalists, and many of them are writing for high authority sites. If you answer questions and they like your response, they'll include your answer in an article with a link for credit.
For example:
The first step to using HARO is to sign up to get their emails every day.
Just go to their website, click "I'm a Source," and follow the instructions.
Once you're signed up, check your email every day at 5:45 am, 12:45 pm, and 5:45 pm (EST).
You'll see a list of queries, like this: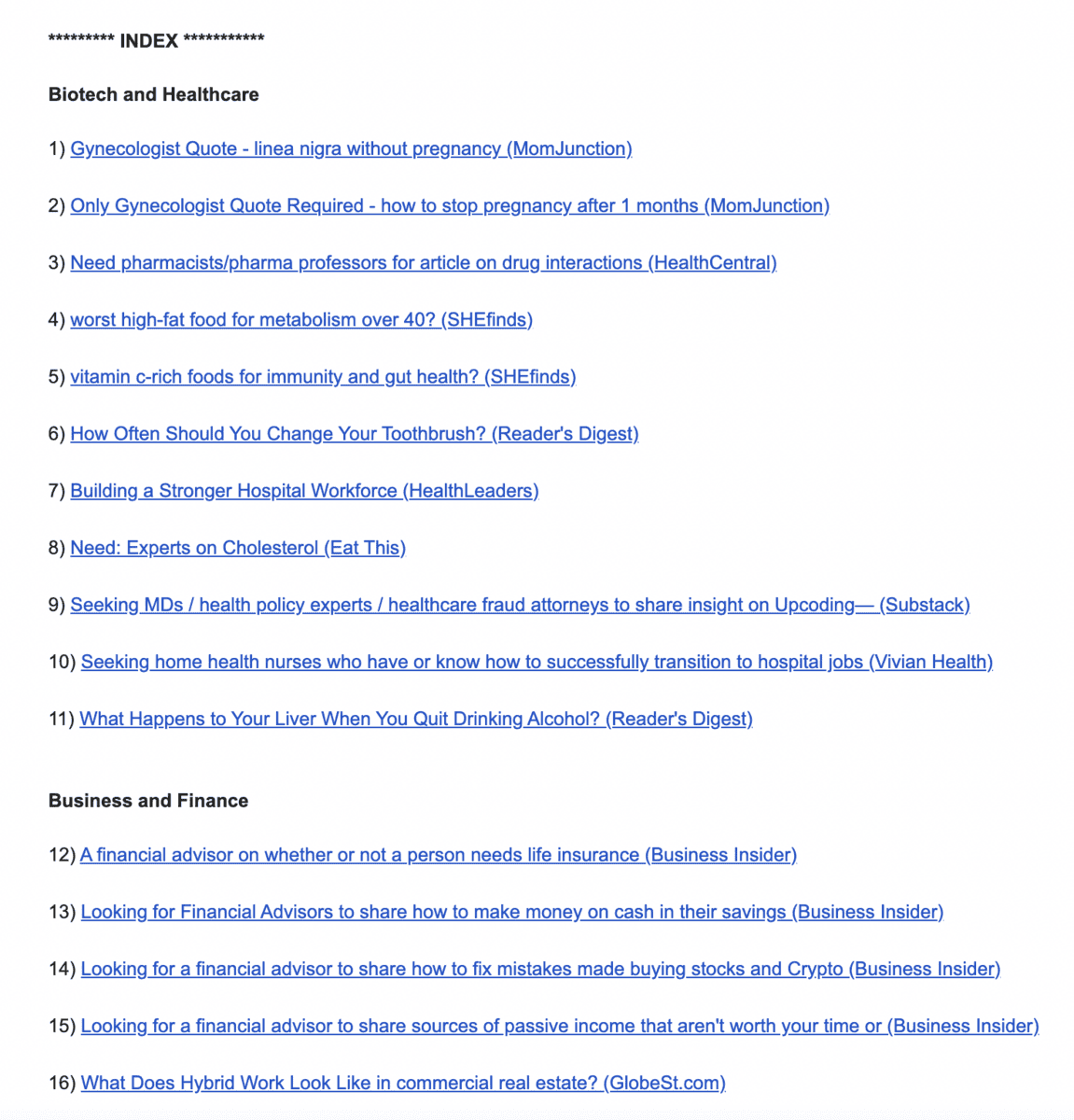 When you find something that you can answer with a unique perspective, respond with this template:
[First Name], in response to your HARO – "[Query Name]"
Hey Sara!
Here's my response to your HARO query, "[Query Name]"
––––––––––
[Your Response]
––––––––––
Hope this helps!
Here's some info for you:
Full Name: [Your Name]
Title: [Your Title]
Bio: [2-Sentence Bio]
Headshot: [Public Headshot URL]
Website URL: [Your Website URL]
Happy to answer additional questions if needed!
Cheers,
[Your Name]
If your answers fit the need, you should be able to maintain a 5-10% success rate.
5. The Skyscraper Technique
The Skyscraper Technique was created by Brian Dean and basically involves leveraging content marketing to get backlinks.
You find something online that has tons of backlinks, build something better, and reach out to people linking to inferior content asking them to replace that link with yours.
Brian covers this in detail in his video here:
Here's the template Brian includes with his case study:
Quick Question
Hey [Name],
I was searching for some articles about [Your topic] today and I came across this page: [URL]
I noticed that you linked to one of my favorite articles – [Article title]
Just wanted to give you a heads up that I created a similar article.
It's like [Name of the article], but more thorough and up to date: [URL]
Might be worth a mention on your page.
Either way, keep up the awesome work!
Cheers,
[Your Name]
You'll get lots of requests for money following this strategy, but buying backlinks is considered "black hat." If you want to counter this, check out our post on white hat negative SEO which, in part, involves skyscraper-type outreach.
6. Resource pages
Resource pages are awesome because they literally exist to link out to stuff.
For example: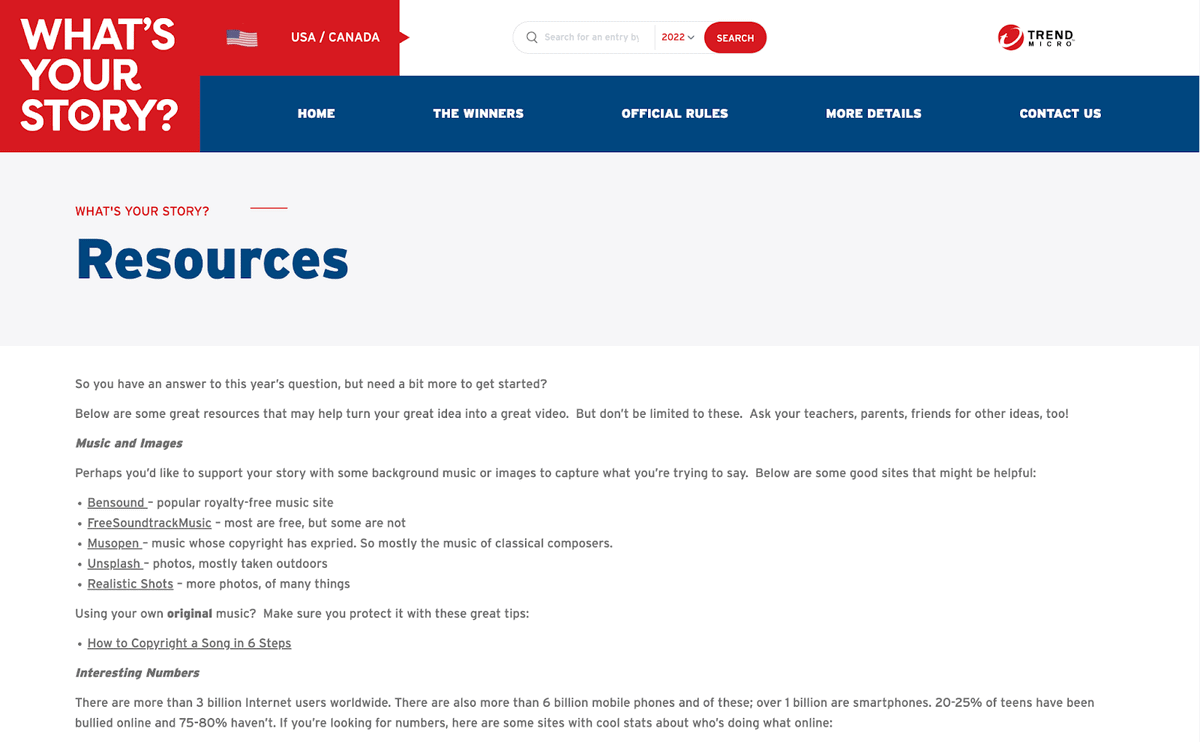 If you have a piece of content that's a fit for the page, you won't have to try so hard to get your backlinks.
The first step is to find resource pages in your niche that are likely to add what you're pitching.
Because resource pages often contain phrases like "helpful links" or "resources" on the page itself, we can use Google search strings to find them.
Here are a few to try:
Keyword inurl:resources
Keyword "best resources"
Keyword" helpful resources"
Keyword intitle:links
Keyword "helpful links"
For example, to promote our on-page SEO guide, we'd use "SEO" as our keyword, like this:
From there, we sift through the results and pick out the ones that look like they'd be interested in adding our article, like this one: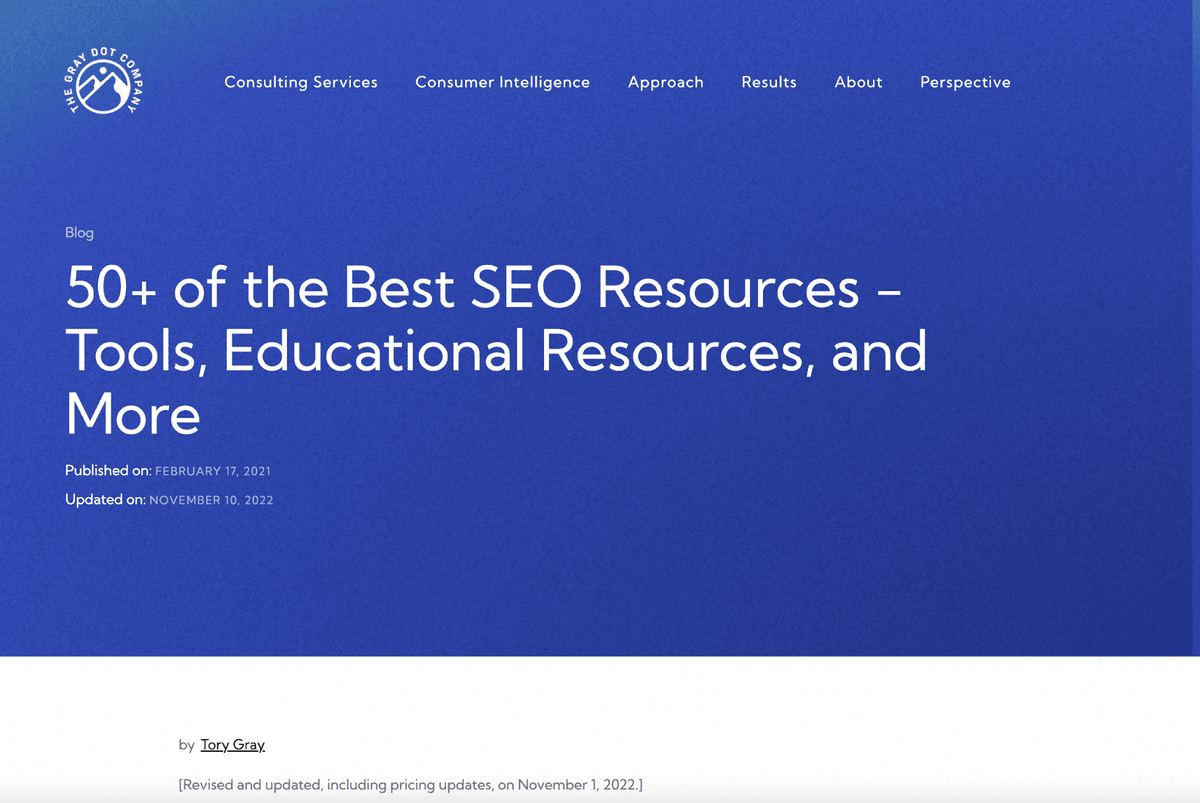 Finally, we want to find the contact information of the person that manages the page and send them a pitch like this:
Quick Question
Hey [Name],
I was doing some research on [topic] today and came across this page of yours: [Link]
Great stuff! [Personalized comment]
[Pitch/description that appeals to their readers]
If this sounds like something your readers would be interested in, would you be able to give it a mention on your page?
Cheers,
Nick
That's it! If you want to learn more about this strategy, Ahrefs and Backlinko have awesome guides.
7. Broken link building
Broken link building is a link building tactic that takes advantage of broken pages on the internet.
It's a 3-step process:
Find broken pages with backlinks.
Recreate the pages on your website.
Reach out and win your links!
Let's go over each step in detail.
Step 1. Find broken pages with backlinks
One of the fastest ways to find broken pages is to find pages that link out to tons of stuff and check their links.
Resource pages (discussed above) are perfect for this.
Use these search strings to find them:
Keyword inurl:resources
Keyword "best resources"
Keyword "helpful resources"
Keyword intitle:links
Keyword "helpful links"
For example: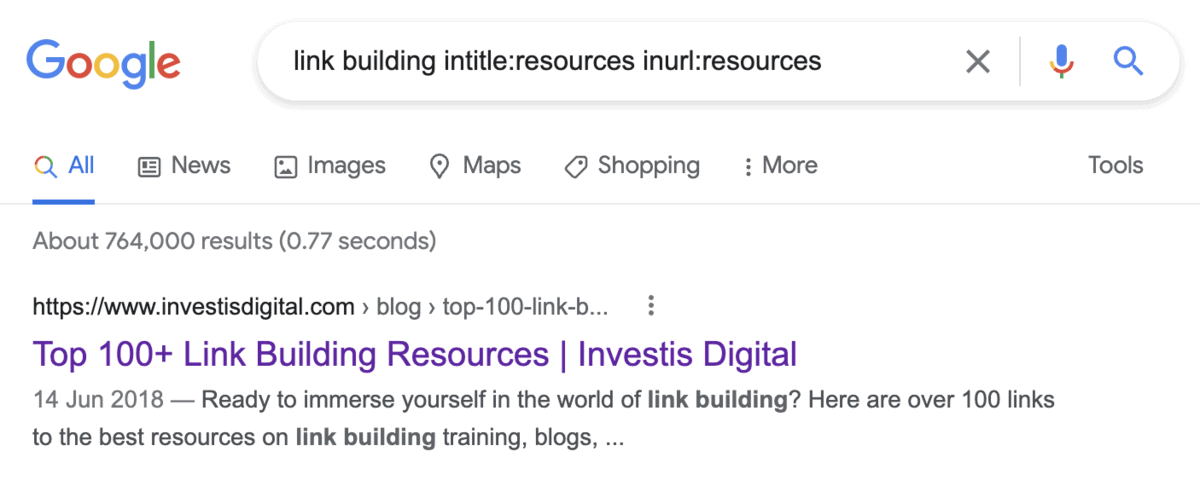 Next, check the pages for broken links. You can use the Check My Links Chrome Extension for this. When you run it, broken links will show in red.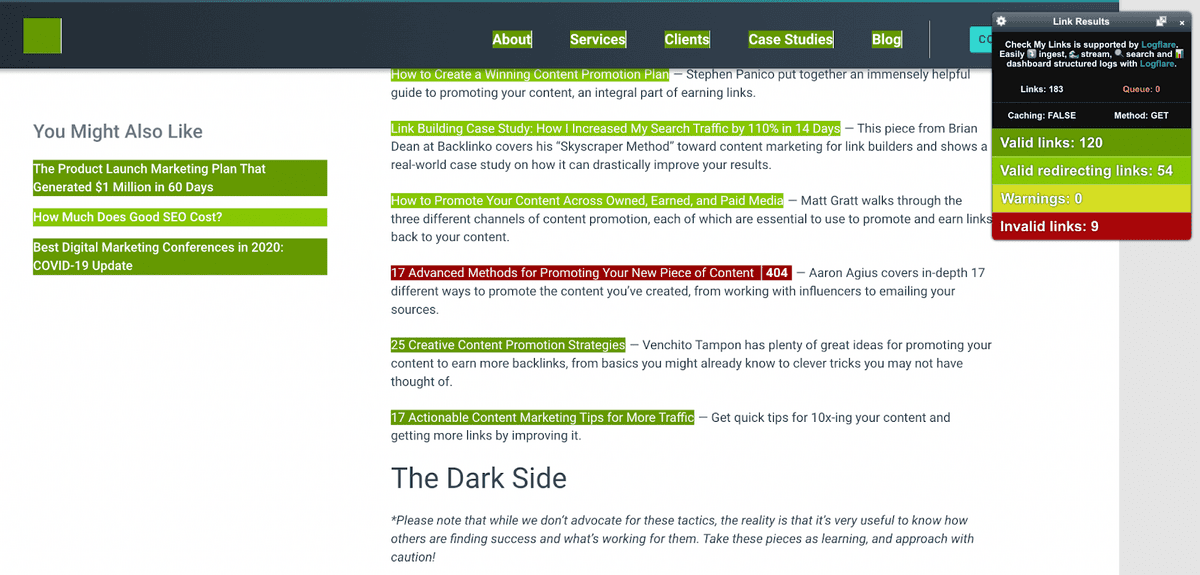 Next, double check that the link is actually broken. As this one is.
Finally, make sure this page is worth replicating. Put the URL into Ahrefs and look at how many backlinks it has.
These are your outreach targets.
This page, for example, has over 300 referring domains, which means there are 300 potential outreach targets.

Step 2. Create your replacement page
You can see what this page used to look like by putting it into the Wayback Machine.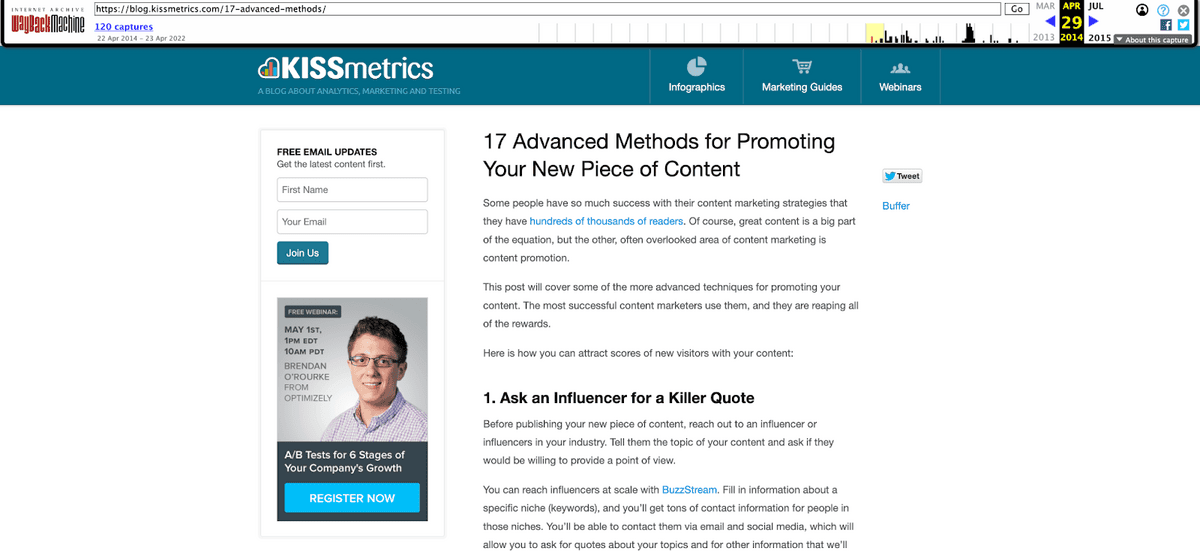 Don't copy the page exactly. Instead, aim to create a better version of the asset.
Simplify it: Make it more readable and easier to understand.
Add visuals: Demonstrate concepts with graphics.
Templatize: Add plug-and-play templates to help your readers use your content.
Whatever the case, making your content better than the alternative strengthens your pitch.
Step 3. Pitch your replacement
Here's a template you can use for your pitch.
Website Issue
Hey [Name]!
Just came across your post on [topic] and saw that you recommended advice on [article topic] from [Dead page publisher]: [outreach target's link]
Looks like that page no longer works.
Not sure if you're still updating older posts, but if you are, my guide expands on that advice and gives a few extra tips: [link]
Just thought it might be useful! Keep up the awesome work!
8. Contextual mentions
This strategy involves finding relevant content that doesn't directly compete with you and mentions the target keyword of your asset somewhere in the text.
For example, I wrote an article about how to copyright a song.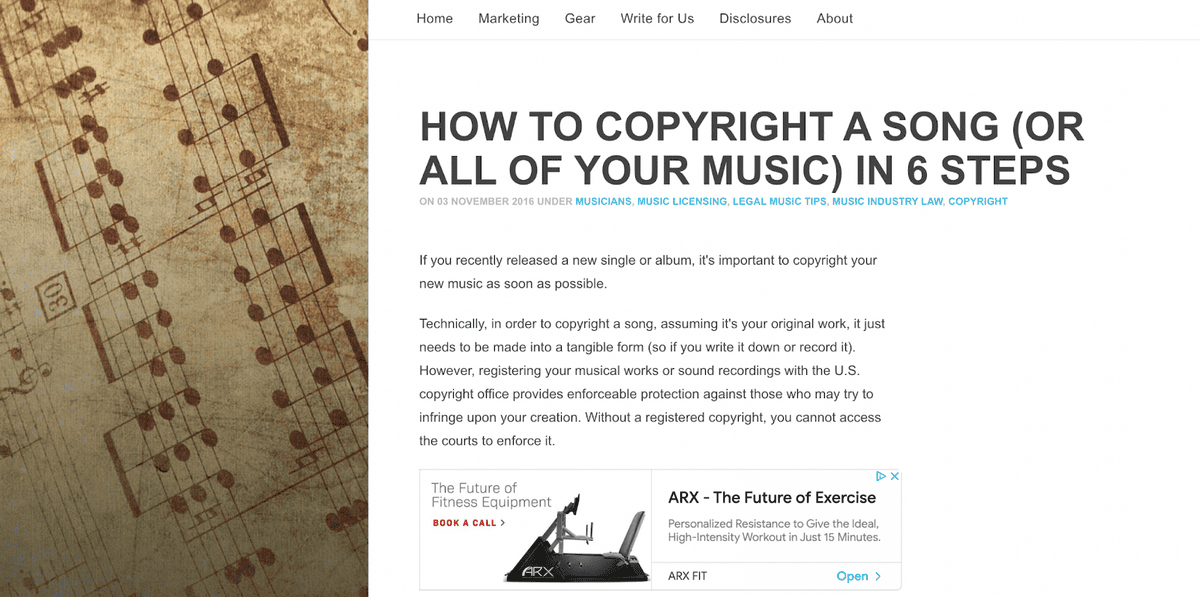 This article about creatives and copyright, while similar in subject matter, doesn't compete directly with mine.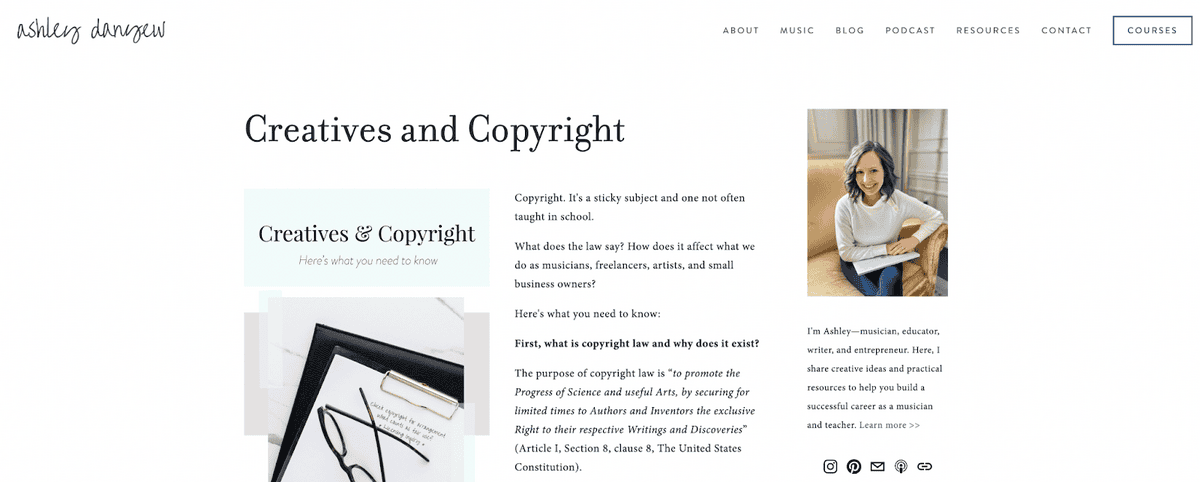 So it made sense to ask for a link because my link would make the article more informative to their readers. This is because they didn't cover the area of subject matter that I did in my article.
You can see here they agree because they decided to add my link!
For this strategy, you need to understand how a few of Google's search operators work.
"Inurl:" tells Google to look for a specific string of text inside of the URL.
"Intext:" tells Google to look for a specific keyword inside the text of the page.
"Intitle:" tells Google to look for a specific keyword in the title of the page.
You can put a minus (-) in front of any of these to tell Google to exclude it from the search query and quotes ("") tell Google to look for an exact phrase rather than a close variant.
With this, if I wanted to find contextual mentions of "link building," I'd construct a search string like one of these:
Inurl:blog intext:"link building" -intitle:"link building" -intitle:"backlinks"
Inurl:blog intext:"link building" intitle:content
Inurl:blog intext:"link building" intitle:marketing
When you put these into Google, you'll be able to find pages with contextual mentions of your topic, like this:
Once you've rounded up your prospects, send them an email like this:
[Article Title]
Hey [name],
Just read your article about [topic]. Great stuff!
I'm reaching out because I noticed you briefly discussed the subject of [topic] in your article, but didn't go too far into it.
We actually just published an article that gives some insight into this: [link]
If this sounds like something your readers would be interested in, would you be able to give it a mention in your article where you talk about [topic]?
Cheers,
Nick
9. Podcast interviews
Podcast interviews are great for brand exposure, but they also come with nice backlinks.
You can find podcasts by using Google to search for them on Apple, Spotify, or other podcast apps, like so:
Keyword site:apple.com inurl:podcast
Keyword site:spotify.com inurl:episode
Keyword site:soundcloud.com inurl:podcast
For example: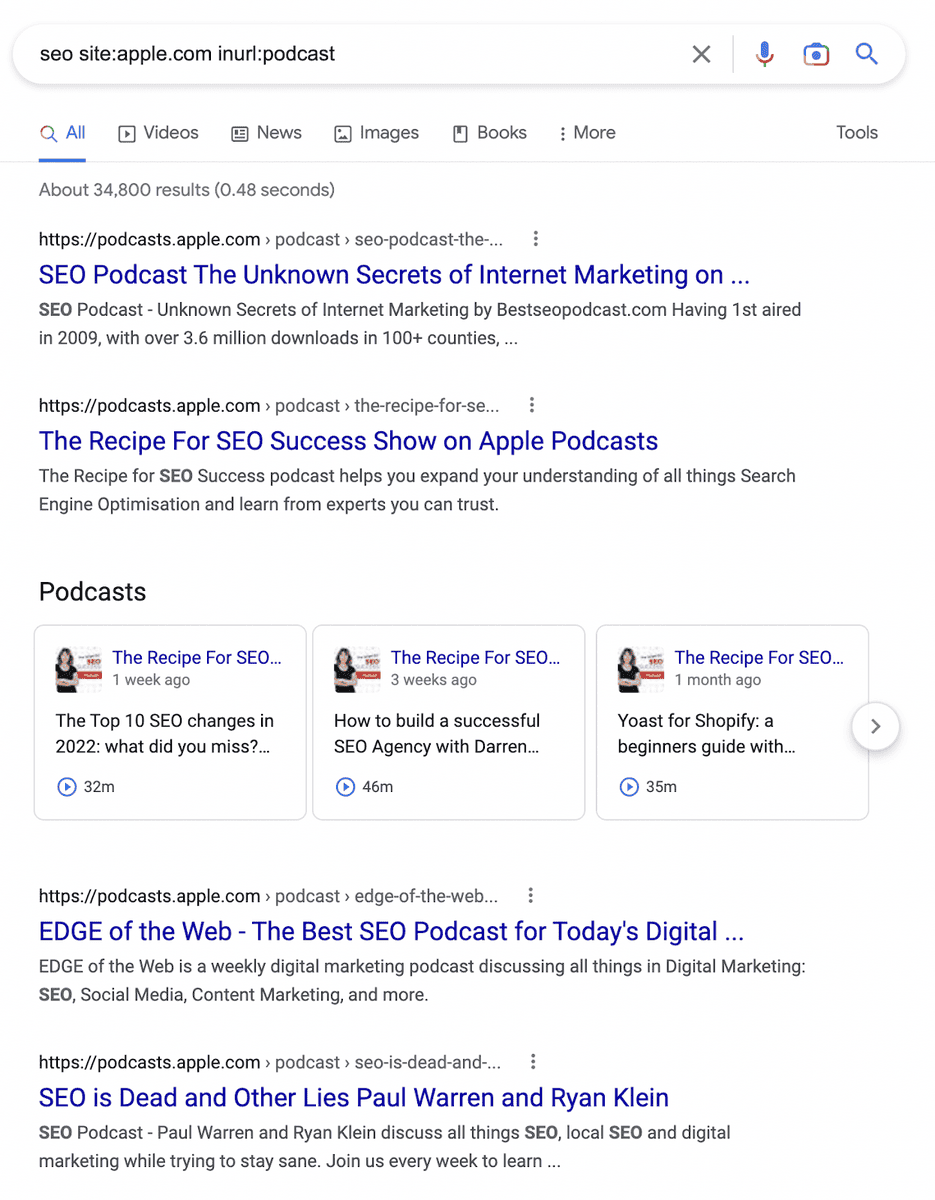 Once you find a podcast that you think you'd be a fit for, send a pitch like this:
 "Interview for [Podcast Name]?"
Hey [Name]!
[Personalized Intro]
After listening, I thought you'd be interested in doing an interview with [Name], [Title] at [Company].
They can bring a valuable perspective on [Topic] because of their [Relevant Experience]. They've already been featured on a few other relevant podcasts, including [Podcast 1] and [Podcast 2].
What do you think? Interested in having a chat about this?
10. Digital PR
Digital PR is very similar to infographic promotion except it's much more focused on being newsworthy.
While commonly leveraged as a way to drive brand awareness on large news sites, these stories often include amazing backlinks.
Here's how it works:
Step 1. Story ideation
During the ideation phase, you want to come up with 3-5 story ideas that may be compelling to your target media outlets.
For example, if you want to get on Forbes, pay attention to what they're publishing and come up with an angle that supports their narrative.
Additionally, think about how your story ideas might appeal to the following emotions in your target outlet's audience:
Awe 🤯
Surprise 😲
Anger 😡
Anxiety 😰
Interest 🤔
In any case, find a main point that the journalists you're after are trying to make, and find a way to further support that with your story ideas.
Step 2. Content development
At this stage, the campaign should be published as a blog post to your site and contain two things:
Custom graphics that highlight your data insights in an interesting way.
Blog post copy that provides more detail about the research and findings.
Generally, you should include around 5 custom graphics because this gives journalists options for their story, which may have different spin than what you've put on it.
For example, check out this story on how much a case of beer will cost by state.
You can check out the graphic for it here:
Which got picked up by outlets like Barstool Sports:
Step 3. Pitch it
With digital PR, you may want to customize your template depending on your story, but here's one that can give you a starting point:
Story for [Outlet]
Hey [Name]!
My name is [Your Name] and I'm with [Company].
We recently performed a study on [topic] and found some really interesting insights, including:
Insight 1
Insight 2
Insight 3
You can find our full study at the link here: [link]
Would you be interested in covering this on [outlet name]?
For a deeper dive on how digital PR works, check out this guide from Moz.