SEO can get confusing quickly if you're new to it.
With Google's numerous ranking factors and 350-400 algorithm changes per year, it's hard to know what you should focus on.
This article will help you determine what elements of SEO you should aim your efforts toward to improve your rankings for a specific keyword based on your current position in the search engine results pages (also known as "SERPs" or "SERP").
That said, there are different steps you need to take depending on the situation find yourself in.
Let's detail what you should do in each one.
How to get your website on Google for any keyword
If you aren't ranking at all in the top 100 results (i.e., the top 10 pages) for your target keyword, assuming your website is already properly set up for SEO performance, then there's some initial marketing groundwork that needs to be done.
First, we need to make sure the page we have on our site that we want to rank for a specific keyword is properly optimized to target that keyword.
Here's how to do that.
Align your content with search intent
Search intent is the SEO term used to describe the purpose of an online search.
For example, let's say you want to shop online and you're an Amazon Prime member. You might type "Amazon" into Google like these 125 million people do every month:
And somehow, Google knows we're talking about Amazon, the eCommerce giant, as opposed to the Amazon River.
This is, in part, because Google's RankBrain algorithm uses machine learning — a branch of AI that aims to imitate the way that humans learn — to help the search engine better understand user behavior.
With the help of RankBrain, Google can understand why people are searching for something and can examine user behavior to determine if they like the results they're seeing.
This is possible because RankBrain can "learn" from certain user behaviors, such as:
Users typing something into Google, clicking the #1 result, then clicking back and going to the #2 instead and not taking action after that. In SEO, this concept is known as pogo sticking.
Users bounce from one page much faster or more frequently than they do from others ranking for the same keyword.
Users are clicking the #3 result more than the #2 or #1 result. This might push #3 up a spot because this signals that the headline and meta description are more attractive to Google's users than the alternatives.
Basically, because search engines are starting to look at the internet more like a human does, we need to understand the humans behind the keyword to properly build our content for that keyword.
Before you do any kind of writing or development on your page, you need to determine the intent.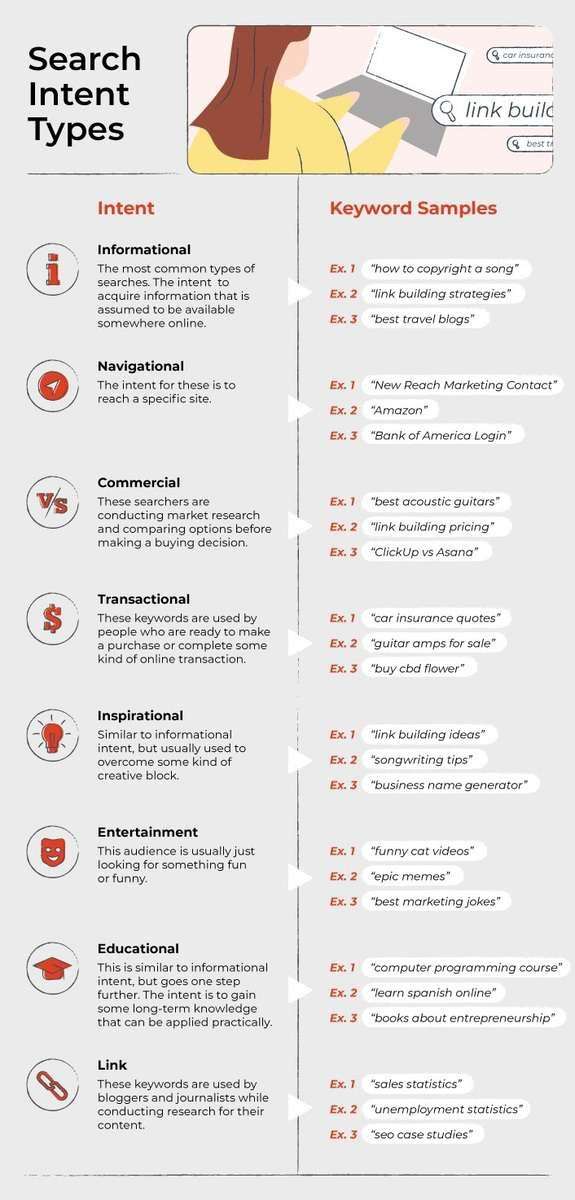 You can usually interpret this from the keyword itself. For example, "buy guitar cables" clearly signals buyer intent, while "knocked loose guitar cover" signals entertainment intent.
However, it's usually best to use Google to research the search intent of your keyword since the pages that currently rank for your target keyword are the ones that Google has, so far, determined are the best matches for their users.
For example, let's look at the term "video conferencing."
In the SERPs, we see a definition page and a list.
If we scroll, we see more lists.
So if Webex or Zoom want to rank for this keyword, they'll have to write a top list. A sales page won't cut it since it's not a fit for search intent in this case.
The takeaway from this is that because Google can interpret user behavior, if your page doesn't give users exactly what they're looking for when they type a keyword into Google, you won't rank for that keyword.
Get some backlinks
Backlinks are simply links from one website's page to another website's page.
For example, this links to Dictionary.com. They now have a backlink from us.
While content sets you up to be positioned for a keyword, backlinks are what move you up the SERPs.
This is confirmed by a study from Ahrefs that shows more backlinks lead to higher rankings and more search traffic.
This is because Google and other search engines think of backlinks as "votes" for particular web pages when comparing them to the available alternatives.
When it comes to making it to the top 100, it's not hard to stand out, either. According to this Backlinko-BuzzSumo analysis of 912 million blog posts, 94% of all content has zero backlinks.
So, by running a simple link building campaign like guest posting or infographic promotion, you can find some success and move your site up into the top 100 very quickly.
If you want more ideas for getting backlinks, check out our list of link building strategies.
Consider an easier keyword
If you're just starting out and your website is small with zero backlinks, zero content, and zero budget, it's unlikely that you're going to be able to chase the keywords that your competitors can.
For example, in our case, we sell SEO services and one of our audiences is law firms. So for us, "law firm SEO" would be a good fit, right? The keyword clearly has buyer intent.
Let's see…
At the time of writing this blog post, our site was not in the SERPs at all, so let's examine how we're approaching this with a real life example.
First, let's look at the stats around the "law firm SEO" keyword with a quick analysis via Ahrefs.
The big 44 number is a keyword difficulty (KD) score that Ahrefs calculates based on the backlink profile of competing pages in the SERPs for this keyword.
That's a big target for us to chase since we're just starting.
As the number shows, competing pages do have lots of backlinks…
However, what we can decipher from the SERPs listed here is that the results are all content-based.
For example, the page at the #1 spot is an SEO guide for lawyers.
So from here, we know that we have a content-focused, buyer-intent keyword that's probably too hard to rank for in the current stage of our business.
However, maybe we can find something with similar search intent and create a blog post around it. 🤔
Using Ahrefs' "Terms Match" tool, we can do exactly that.
Here, we can see a huge list of keywords with their keyword difficulty stat next to them.
From here, we take some of these and plug them into Google to examine the SERPs.
For example, "law firm SEO services" looks like an interesting alternative. Still a bit hard, but I think it's worth it for a somewhat longer-term bet.
Let's see how accurate that KD is by looking at the link profile of the current SERP results.
The top pages have fewer links than the bottom one. This tells me that there's potential to win on non-link factors like search intent.
Let's see if this is a fit for our business needs. If we look in Google, the titles all clearly target buyers.
However, if we click in, we see long-form content.
So, we've found a keyword that has the same content-driven buyer intent.
FYI, we decided to go for it. 🤘
For more help with keyword research, check out this guide from Moz.
How to move up in Google if you're not on page 1
If you're on pages 2-10 of Google, this section is for you.
If you're positioned in Google but aren't on page 1, you can usually move your page up in the SERPs with site speed improvements, link building, or both.
Improve site speed and UX
A lot of people underestimate the importance of site speed and user experience as a ranking factor.
It makes a massive difference, both directly and indirectly. Google's algorithm measures three core web vitals to, in part, measure on-site user experience.
So to prevent damage to your ranking in the SERPs, you should make your page load as quickly as possible and consider improving things like First Input Delay – the time from when a user first interacts with your site (such as taps a button on mobile) to the time when the browser is actually able to respond to that interaction (when the button tap registers).
Fortunately, Google's PageSpeed Insights tool can guide you through the technical changes necessary to achieve better rankings.
Additionally, the potential indirect impact of website speed and user experience is that your website could be so slow that it's impacting other metrics Google uses to rank your site, such as bounce rate and dwell time.
An analysis from Pingdom found that the average bounce rate for pages loading within two seconds is 9%. As soon as the page load time surpasses three seconds, the bounce rate soars, and it climbs to 38% by the time it hits five seconds!
Google even found this to be the case on mobile.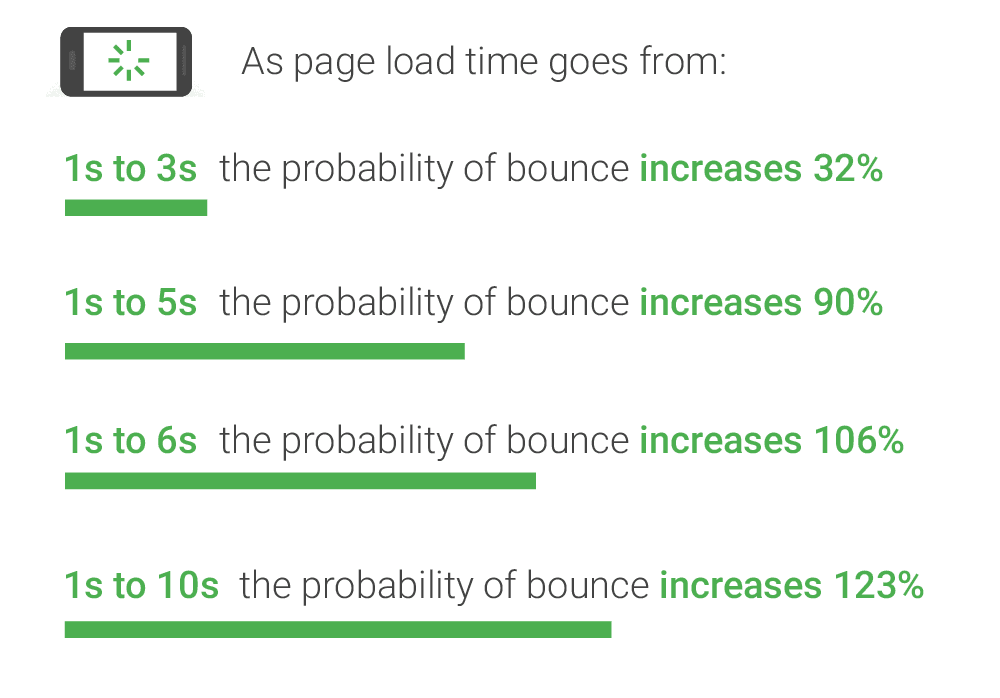 So, to reduce the impact your page speed has on your bounce rate, make sure it loads in less than three seconds wherever possible.
However, it's necessary to point out that the findings of this analysis differ slightly from user satisfaction.
What this means is that you should reduce your site's load time as much as possible, but not to the point where it results in a poor content experience for your users, like blurry images.
Get backlinks
In repeated cases, I've been able to move sites from pages 2-10 up to page 1 with link building alone, provided the content is already good and fulfills search intent.
For example, when I worked with Aptito on link building for their article about opening a restaurant, link building is what pushed them from #14 into the top 10 for the keyword "how to open a restaurant."
This is evidenced by the fact that as we got more backlinks to the page…
The article moved into the top 10, like this…
If you already have a page that fulfills search intent, link building alone can push you up.
At this stage, in most niches, you can run a guest posting campaign to win your backlinks.
How to move up in Google if you're on page 1, but not in the top 3
If you've moved up to page 1, you can rest assured that you're doing things the right way.
However, until you're in the top three, there's still work to be done.
When you're on page 1 chasing the top three positions, here's what to do.
Re-examine SERP competitors
If you've made it to page 1 of Google, it's likely that your content is a pretty good match for the search intent of your target keyword.
Being at the bottom, however, means that the other pages ranking for this keyword might be better optimized.
There are a few reasons this could be the case. When examining your competitors content, ask the following questions to judge how you can improve your page:
Is their content covering something mine doesn't? If so, maybe update your content to cover this subject matter in more detail than their page does, or in a way that's easier for users.
Does their page look better? Looks definitely matter for SEO. While website design is subjective, it's important that your page looks good to Google's users since that's who you're trying to appeal to. Try and understand what design styles might appeal to your audience and adapt your page's style to that.
Do they have a different type of content on their page than I do? If your competitor's blog posts that are ranking in the top 3 now also have a video or infographic, consider adding more multimedia content to your page.
Is their page more up-to-date than mine? Maybe they're using outdated screenshots of something they're talking about on their site. Maybe there's a more recent study on one of their talking points. Whatever the case, you can use this to your advantage by updating your page with more accurate info.
Does their page cover the subject matter in more detail than mine? If so, consider breaking things down in more detail for your readers.
When making your updates, don't just beat your competitors. Put up a barrier to entry by making your content 10x better than theirs. If you can build something that your competitors are too afraid to go up against, you can more easily maintain your ranking position.
Build some internal links
Internal links are links that point from one page to another on the same domain.
So in the above section where I linked to our other article about buying backlinks, that's an internal link because that article is also on this website.
These links are mainly to help users navigate around your site, but Google also uses them to find and understand all of the pages on your site.
Part of how Google is able to use links to understand the topical relevance of a page is because of the link's anchor text.
Anchor text — or link text — is the visible, clickable text of a link. So if I wanted to link to our homepage with the anchor text "Ranko Media," I would do it like this: Ranko Media.
Because search engines use anchor text to understand what the page you're linking to is about, using anchor text that matches your target keyword when linking from one page to another on your site can give you a boost.
While getting exact match anchors is risky for backlinks, Google actually encourages this with internal links.
However, not all pages are created equal. Don't think you can create an artificial bump in your rankings by publishing more pages on your site and adding some links.
Google sees some pages as more valuable than others. A good way to measure this value is by looking at Ahrefs' URL Rating (UR), which measures the "strength" of an individual page's link profile.
By putting your URL into Ahrefs and going to their "best by links" section, you'll get a sorted list of pages on your site sorted by their URL Rating.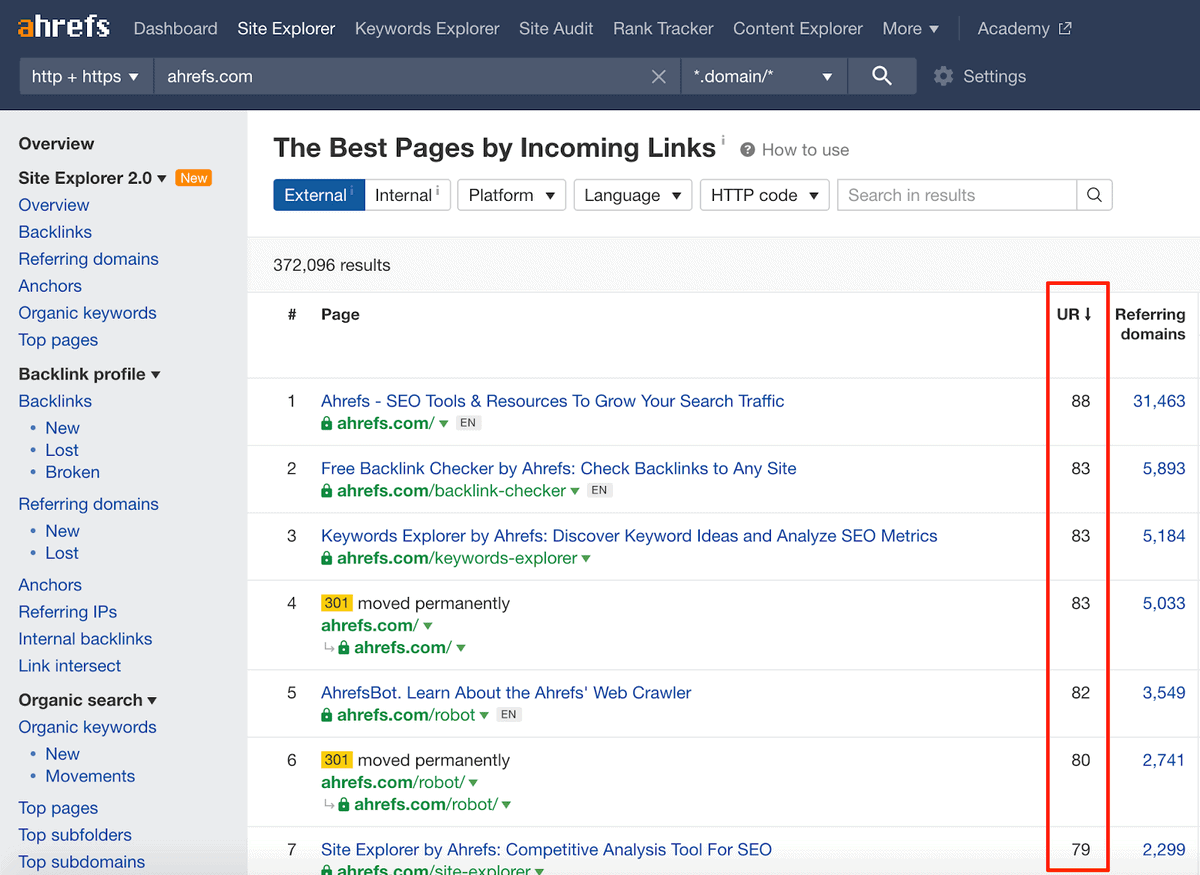 From here, you can go through this list and link from these pages to your target pages with your target keyword as your anchor text.
If you want an example of this, here's a link to our article about free backlinks using our target anchor text. 😜
Get more backlinks
Buying backlinks may work up to this point, but at this point, Google will have likely caught on to most of them, and continuing on the paid link path will keep you behind competitors who are doing things the right way.
That said, if you're running a more white hat (i.e., okay with Google) link building campaign, keep it going as you make improvements to your content and other on-site factors.
At this stage, be extra careful about overdoing your anchor text. When it comes to getting anchors in link building, randomness is good. We usually limit our exact match anchors to 20% when link building via methods that allow for anchor text control.
How to move up in Google if you're in the top 3
If you're in the top three, chances are you're getting some traffic from people searching for your target keyword.
When you're in the top three spots for any keyword, this is when you've entered the most competitive environment for the keyword. Maybe even the whole industry.
Because this is where the best pages are, you need to make sure that your page is the best of the best if you're going to take the number-one spot.
Here are some different factors you can focus on to improve your page.
Optimize your SERP placement for CTR
It's up for debate about whether or not CTR actually pushes pages up the rankings.
My take is that it doesn't matter. If there's any way to get more traffic from Google without improving your rankings, it's by improving your click-through rate.
Even if it doesn't directly impact rankings, it impacts your share of clicks. A higher CTR means that more people want to click on your link than the others regardless of your position in the SERPs.
And more clicks = more sales.
This diagram by SEO consultant Aleyda Solis very effectively goes over the thought process behind improving a site's CTR:
Increase dwell time
Dwell time, the amount of time visitors spend on your page, is an important user experience signal.
Longer dwell times usually mean people like your site, which is why this is something search engines notice.
There are lots of general tips online for increasing your dwell time, but the best way to improve dwell time on your website is to listen to your users.
Up until now, we've relied on external sources for information on why users might be coming to your page (by researching search intent), but now it's important to understand why users are really coming to your page.
You can do this with Hotjar by setting up surveys on specific pages of your site.
For example, if the page you're looking to improve is a blog post, you can poll users on it with a question like this:
As an example, the content team at Hotjar uses on-site surveys for this exact purpose. Here are some of their actual results from July 2019:
Since you're in the top three now and know people are coming to your page from Google, you can get direct feedback from people who found you from Google. This can help you find creative ways to double down on search intent.
You can also use session recording to find out the exact reasons users are leaving your page. Just install some session recording software, like Hotjar, and watch the recordings of the users who exited, take detailed notes, and implement the necessary changes to fix their concerns.
You'll be surprised at what you find here that helps you improve your page.
You're #1! That's it, right?
You're #1 in Google! Awesome!

So you're good, right?

Not so fast. If you're after this placement, your competitors probably are as well.
While you can combat this by continuing to implement any of the above tips, there are a few things you can do to build more security into your SEO campaign.
Use link bait to gain passive link juice
If you're getting backlinks directly to your page, that's a huge win.
However, because Google uses internal links as an additional metric to rank sites, we can use this to our advantage.
As discussed previously, it's best practice to build internal links from high UR pages. If your target page has a link from a high UR page on your site, you're passing the "link juice" of that page to the page that needs a boost.
So, how do you get more high UR pages on your site?
By building pages designed to attract backlinks naturally.
We did this for one of our clients and published the details in this guide about how we got them 85 free backlinks.
Check it out and apply the steps to your site for some passive link acquisition wins. 🤘
Win more keywords
When it comes to money, putting all of your eggs in one basket isn't a very good investment strategy.
The same is true with your SEO strategy.
If you chase only a few high-value keywords that your competitors are also after, you're likely going to find yourself in a constant race to the top.
By broadening your keyword selection and building out a content-driven SEO strategy, you can continue to find and target new keywords in your niche to dominate the SERPs.
To do this, you just need to find more keywords.
Here are some helpful guides on keyword research:
Once you find more keywords you think are a fit for your needs, just come back to this guide and get started again with the tips in bucket #1!